Before the first age of interstellar activity in the Great Horned Dragon Empire, King Kahhn relied on Adam Jestico for all of his financial support.
Adam Jestico come from a moderately rich family, but when it was his turn to step up, he did so more than anyone ever expected. He put every penny of his money to work, paying for the production of weapon-manufacturing industries. Paying for the secret development of more advanced weapons that had never been seen before. Every time one of his companies released one of the new weapons, stock prices skyrocketed. He would then take out some of his earnings and put it back into another secret military production. This was long before King Kahhn's massive uprising.
King Kahhn, seeing the tactics and the abilities of Adam Jestico, convinced him to cut a deal. Over time money was being quietly given to Kahhn for secret military weapons that would not be introduced to fluctuate stock market prices. Over the course of about 50 years, he had built up a massive army. He gave Adam the heads up that he was about to mobilize. And Jestico took all of his money and put it into different savings accounts that Kahhn would ensure would survive the uprising. After Kahhn's uprising took place, and he had conquered the entire world, he left Adam to re-organize the new nation's economy, while he re-ordered its government. Once Jestico had control over the entire economy, his funds grew at a rate unparalleled to anyone ever before.
Oprah Winfrey: Over US$2.7 billion
Bill Gates: US$58 Billion
By the time the empire was established, Adam Jestico had a net worth equivalent to $38.9 Trillion US dollars.
King Kahhn had four children, two sons, Artes and Spaca, and two daughters, Juliana and Nikan (all of whom eventually get planets named after them). Artes became a fierce war hero and died in combat at the rank of Minor Admiral. Spaca went into the field of weapons design and created Spaca Industries, which would eventually be the chief creators of the sovereign warships. Juliana became a captain and was eventually killed in action. Nikan fell in love with Julius Jestico, the only son of Adam Jestico, the wealthiest family in the history of the empire and good friend to King Kahhn. They had three children, Warner (who appears later in history), Magrus (who eventually founds the most important gateway colony in the Magrus system), and Jaseus (named after the planet, eventually founds the Jaseus wildlife reserve).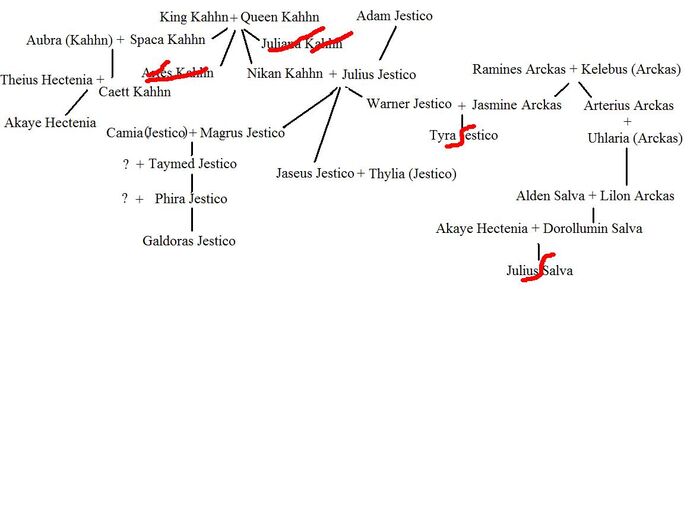 Ad blocker interference detected!
Wikia is a free-to-use site that makes money from advertising. We have a modified experience for viewers using ad blockers

Wikia is not accessible if you've made further modifications. Remove the custom ad blocker rule(s) and the page will load as expected.